Thanks for stopping by and welcome to Q3 2021. In this post I will be reflecting back on what has happened during Q2 2021 and plans for Q3. As usual I break this down into work, investment and personal life sections.
Work
Q2 overall was a great period for me on the work front. I made some big changes on my consulting side, and was able to get a big release live for FrameIT which really reduced my time investment in serving custom quotes, and also helped to increase revenue. I've noted some of the more significant updates below.
Launched new FrameIT release
We finally got the latest FrameIT release live on the Singapore & Malaysia sites towards the end of May. It took way longer than it should have, and we suffered from some post-live bugs which caused incorrect orders to be shipped to some customers.
Focusing on the positives though, the development team did get these bugs sorted quickly, and the release created some amazing process improvements, and a general increase in revenue.
There is many benefits from a customers perspective, but purely from my view point, it helped in 2 core areas:
I have negated the need to handle offline orders. In Q1, there was months when I was taking more revenue offline than online because customers were unable to order larger sized frames via the website. This was sucking up tons of my free time to manage those customers and process the orders. Since this release went live I have done 1 offline order, and only because it is a bulk order of 10 frames.
As a result of customers not getting 'blocked' from buying larger frames, we've also seen a good increase in revenue online. We did 40% more revenue in Q2 via the website vs. Q1, and June was also our best month ever in terms of total orders and revenue.
Lots of new FrameIT customer videos
Aside from the new release we also spent time shooting a selection of new videos to better demonstrate real customers mounting their items at home. These are designed to provide more visual confidence to prospective customers that we are real, our frames are good, and its easy to mount stuff at home. In total we produced 5 such videos in Q2, and I have selected my 2 favourites below.
The first video is Lydia Yap who runs YE Jewelry. The lighting was great and Lydia just moves in a very elegant manner, so the video works really nicely. Thanks Lydia!
This second video was shot with a family of 5. They have 3 boys who are high energy and full of cheekiness, so this one was a lot of fun to shoot and edit.
Since I am shooting all the video myself, and only outsourcing the editing, I am able to shoot and produce these at around $100 USD per video, so its really good value content in my opinion.
Working on PrintIT website
I decided to build a separate website from FrameIT that will target fine art printing and canvas printing/stretching. As a result I have acquired the domain printit.com.sg and we're currently working through the development of this site for a launch sometime in Q3 I hope, but it wouldn't surprise me if it maybe rolls into Q4 instead.
This site will be built on WordPress, so the financial outlay is much lower than FrameIT to get it up and running.
Much like FrameIT, the idea is basically to properly digitize the fine art and canvas printing in Singapore. Its a relatively small/niche industry here, but most of the vendors don't allow a great deal to happen online, so customers have to email them / call them / go down to the shop to complete their order.
I plan to bring the entire thing online and make it a very smooth user experience.
Stopped working with my biggest client
Having worked with I.R.B Law for around 2.5 years, I took the decision in April to part ways with the business. They were my biggest client in terms of work output and revenue, but it was time for me to walk away and let them continue along the journey on their own.
Despite the rather sad ending, I will look back fondly on this period. I took a law firm from relative digital obscurity to being the most visible law firm in Singapore. Some key facts from my time there:
Organic visits grew from 52K a year to 462K [+783%].
Tracked web leads grew from 1,378 to 14,652 [+963%].
During a global pandemic they opened 9 new offices and were able to keep hiring.
I genuinely wish them good fortune in the future, but ugggh, they've already broken a bunch of visible stuff since April.
Investment
Q2 was relatively kind to my portfolio as the overall market trend has been decidedly positive during this period. I did sell off some holdings that I started in Q1, mainly because I just don't have the resolve to hold them long term. I also reduced my holdings in many companies in order to bank some profits along the way. Below is a summary of my portfolio as of today.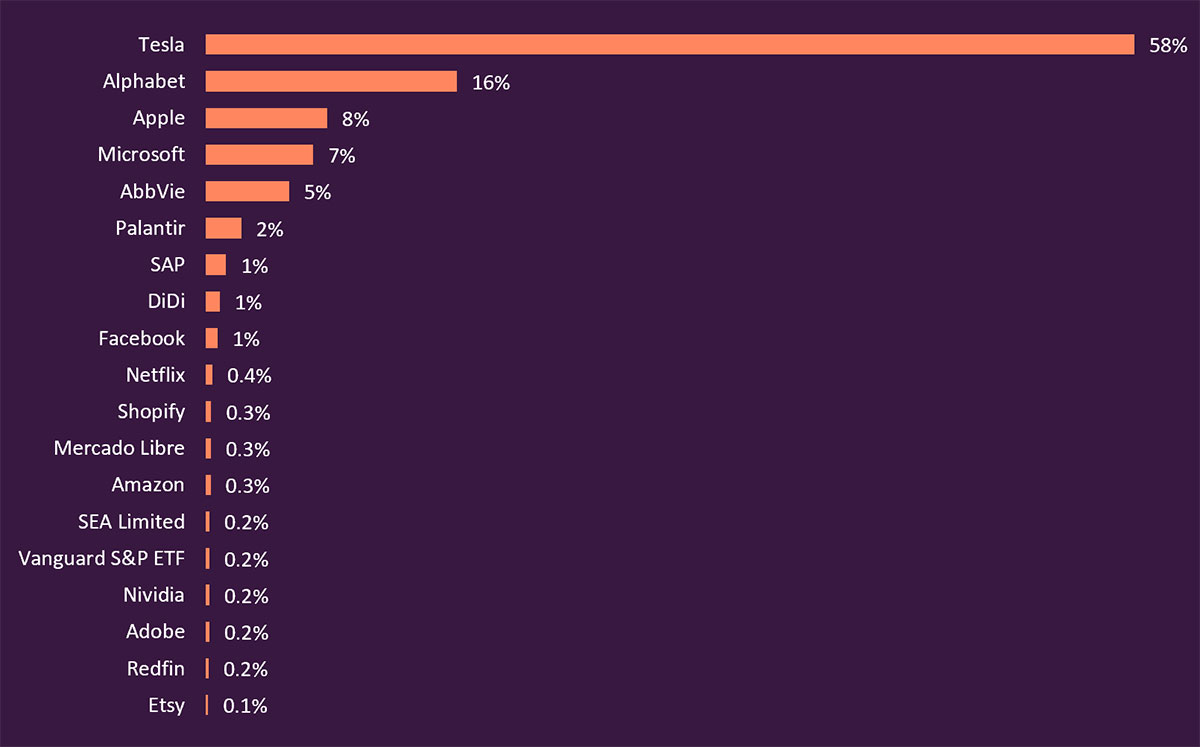 If you are wondering why I have a lot of companies with sub 1% holding levels, its basically because I also changed tactics slightly vs. my Q1 update where I mentioned a side investment into an ETF tracker for my kids.
Rather than placing the full amount into the ETF in isolation, I have created a pie with 14 slices. Each slice represents a company or ETF fund. I have taken the funds that were previously in the ETF and basically shared it across the 14 companies in my pie [its not entirely equal]. Then I commence again the auto monthly investment of $300 USD on the 21st of each month into each of the slices as per my % allocation requirements.
I started this in May, and the pie is up 15% as of today. I'd say this is not due to excellent investment skills, but pure luck in terms of the timing of my initial investments. This fund includes the following companies, most of which I anticipate holding long term:
Amazon
Apple
Shopify
Mercado Libre
Microsoft
Alphabet [Google]
Tesla
Vanguard S&P 500 ETF
SEA Limited
Nividia
Adobe
Netflix
Redfin
Etsy
Life
Q2 was a really busy period on this front, with some fairly major life updates.
Robin turned one
Yes, the little man enjoyed his 1st year birthday on 26th June. He is a cool little dude who never stops moving. If I compare him to Riley, our eldest, I would say:
He is a lot more emotionally charged than Riley was. He will get upset more easily and makes sure everyone knows he's upset 🙂
He is physically very strong, and his motor skills are really impressive. He started walking very early, and can use a scooter at 12 months of age.
He is more advanced than Riley in the physical aspects, but less advanced [at this point] in terms of talking. He's still in the grunting phase at this point, with very few discernible words.
He really likes music. Doesn't matter where or when, if he hears music he becomes instantly happy and starts jiving away.
Here's to many more great memories little man!
We had an offer accepted on an HDB
I've lived in Singapore for 11 years now. In that time I've got married and had 2 kids, but we have never lived in a property that we can call our own. We had this plan around 3 years ago to reduce our rental outgoings and focus on saving up to buy somewhere in 2021/22. We also sold our flat in the UK earlier this year to raise more capital.
Initially our plan was basically to find a freehold condo with 3 bedrooms somewhere around River Valley. Its a premium location for sure, but having looked around, we basically couldn't find anything within our budget that we'd be happy to drop such a huge sum of money on. We even extended to looking at leasehold, but still nothing that we could justify financially.
We had basically resigned ourselves to at least another 5 years renting whilst the eldest got [hopefully] into our desired primary school.
In and amongst all of this, my wife and kids also became Singapore citizens, so an HDB resale property became a more significant discussion point once again. I won't go into detail on HDBs here, but suffice to say, it is government built housing [flats mostly] that are on a 99 year lease. Something like 80% of Singaporeans live in such a property here.
Based on the school we're hoping to get Riley into, we had 4 possible HDB developments that could be considered within 1km of the school. We looked at units in all 4, and we had an offer accepted on the only 1 we actually liked.
There is of course some definite pros/cons, but the pros massively outweigh any cons.
PRO – we barely have to put any cash down on the deposit as we can use a sizeable amount of our CPF [think government pension scheme]. This is compared to having to drop some 450 – 600K if buying a private condo in a similar area. It also means I don't have to sell-off any of my investments.
PRO – we will save between 250 – 290K over the course of 5 years just in rent vs. fulfilling the interest only part of the mortgage. This means lots more free cash flow that can be invested for the future, but also just allowing more freedom for exciting family holidays.
PRO – we will stop torching money every month on rent. It will instead go towards paying down the mortgage on a physical asset that we should be able to re-sell later.
CON – we will lose access to a swimming pool for the kids. First world problems I know, but the kids do love swimming, and these are important considerations when you have young ones. It is easily solved though by using the public pools.
CON – we have bought an old property. After we meet the MOP [5 years] it will be down to 47 years. The potential buyers pool is going to be small, and some buyers may struggle to get a loan from some banks given the short remaining lease period. Based on the savings we make over the 5 years, I can live with the small risk here. Even if we have to sell the property at a loss, it would need to be a big loss to negate the benefits.
CON – we'd love to stay 5 years, move-out, and rent it out. Financially speaking, this would be amazing, even if we just ran the lease down to 0 and handed the property back to the government. Unfortunately Singapore has some seriously high additional buyers stamp duty [ABSD] imposed on people when they purchase a second property. It basically forces us to stay in the property long term, or sell it before we can realistically buy another place. Renting it out is not going to be an option. To put this into context, lets hypothetically say I wanted to buy a landed house at $3.6m in 5+ years time [not completely outside the realms of possibility]. Firstly you would pay around $128K buyers stamp duty, and then a further 12% ABSD of around $430k. Buyers stamp duty is a given no matter what, but can you imagine just torching $430K just for the privilege of owning a second property? utter madness.
The move-in date is a bit protracted unfortunately, but we hope to be in and fully renovated by early 2022 at the latest.
We bought a new puppy called Poppy
Against my better judgment, we bought another dog. We are back up to 2.
The new puppy is called Poppy, and she is tiny. The breed is a Teacup Maltipoo, which is basically a cross between a teacup Maltese, and a teacup Poodle.
I've never been a tiny dog fan, but I must admit that there is a huge convenience factor in owning a small dog in Singapore. She is 7 months old at this point and still weighs less than 1kg.
She spends most of the day running around terrorising the youngest and pulling on aunties trousers.
I completed the coast-to-coast run/walk
The coast-to-coast is basically a c.36km route across Singapore. It starts from the Chinese Gardens and runs through to Coney Island via [mostly] park connectors. I have no idea why its called coast-to-coast since it doesn't start from a coast, but details, details.
Alice had wanted to do this for the longest time, and was keen to run it as a celebration of reaching the 1 year point of breastfeeding our youngest. Originally she was going to do it with one of her friends, but that plan kind of fell through at the last minute.
She'd been running frequently, but I hadn't done further than 5km for about a year. Armed with such incredible preparation, we set out early one morning to get it done.
I think we did pretty good considering. We ran about 20km before settling into more of a brisk walk for the remaining part.
There was a lot of construction around some parts of the route, and I daresay not a great amount of greenery, but I would be quite keen to tackle it again when I have a bit more running in my legs.
We're going to do the Railway Corridor next – thats a slightly less brutal 21km.
Piled through a ton of books
Managed to make it through a number of fiction books during Q2. I won't go into detailed reviews here, but I really enjoyed the continuation of the Ken Follett novels around Kingsbridge. I completed The Evening and The Morning, and World Without End. I have just started the last of the series, A Column of Fire this week.
In-between finishing two Ken Follett novels and starting A Column of Fire, I read 4 books by Scottish writer Douglas Jackson. These books form a series [up to 9 novels at this point] that follow a Roman soldier called Gaius Valerius Verrens. The books cover his exploits across various parts of the Roman empire during the period of Emperor Nero, and the tumultuous time of the 4 emperors. You can find book 1 in the series Hero of Rome on Amazon.
I have really enjoyed this series and I plan to pick up book 5 once I have finished A Column of Fire. Similar Rome based series by Simon Scarrow and Ian Ross are also highly recommended.
Focus for Q3
I'll look back and check how I do against these, but my primary focus areas for July -> August are:
Get PrintIT live.
Start development of the next FrameIT release, which would add printing to the website offering.
Have fun with the family – enjoy a mini-staycation in August.
Get my COVID-19 vaccines finally – one in July, and one in August.
Move the HDB resale process to the next stage – resale applications submitted.
Keep my few remaining clients happy and filled with leads.
Thanks for reading, and wish everyone the best for Q3!